Big butts like it big presents: Mya and Tory taking an ass full of hard cock
Scene Title: Big Butt Masterpiece Theatre
Storyline: Inmate Johnny Sins is led into the "education facility"for his rehabilitation. The educational showing for the day is an ass puppet play starring prison guards Tory and Mya. Tory and Mya use their big butts to re-enact a crime scene to teach Johnny a lesson. Toryís ass is playing the cop and Mya's ass is the thief that gets caught with stolen jewelry. Johnny canít handle his sexual urges while watching them pull each otherís asshole with anal beads. He knocks out the security guard on duty, and crashes the show by punishing both Tory and Myaís asses.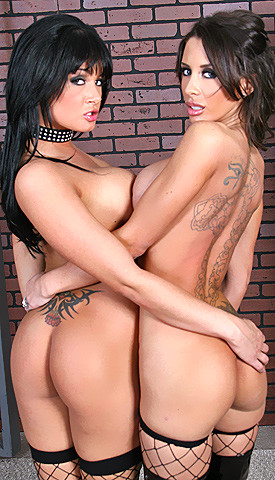 Tory Lane and Mya Nichole Big butts like it big Video Trailer
What people are saying about: Tory Lane and Mya Nichole - Big Butt Masterpiece Theatre bigbuttslikeitbig video
Comment #1
Nah to fuck Tory by herself is hard enough but to throw in Mya as well?? No chance even for Johnny. But at least he tried lol
Comment #2
AGAIN GREAT FUCKING SHOW TORY! MYA IS ALSO FUCKING FANTASTIC!
Comment #3
Both those girls were sure enjoying themselves, as long as the wood was stiff. Next time take a double dose of Viagra, otherwise great bigbuttslikeitbig video.
Comment #4
I guess this day had to come sooner or later. I'm not sure if he had work a scene before he did this one or they all fucked before they actually shot. I've never seen him struggle to keep an erection that long. I didn't care much for the story. It almost felt like the one he did with Phoenix and Brianna Love. Now I did get some good laughs from the Masterpiece Theatre though. Damn I wish he got a do over with my Phat Packer and DollFace. Tory was so fucking wild I don't think Mya knew what she was in for. Hey Tiger misses putts and Jordan has missed game winners. Johnny is allowed to have a off day too.
Comment #5
Very nice scene!!! What I really don't understand is why that guys dick was so fucking soft. I was was doing a scene with those two beauties my dick would have been harder than a rock. I wish there was a try out to become a Brazzers pornstar.
Tory Lane and Mya Nichole Bigbuttslikeitbig Picture Gallery